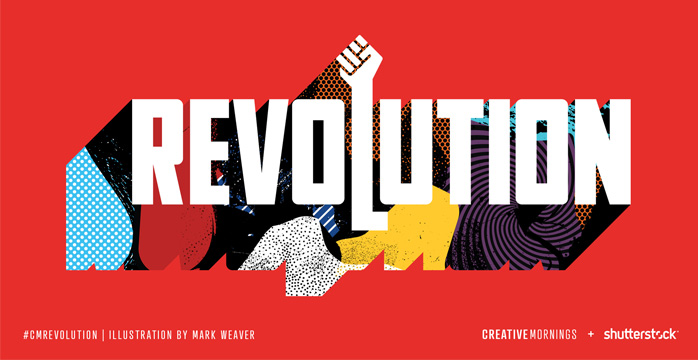 It's before 9 o'clock and everyone's huddled together in rows of pews inside a small, bright, intimate building eagerly waiting to be inspired. Coffee has been complimentary served and there's a lot of chatter. The conversations are amplified by the tall arched ceiling. It's built this way for a reason. We are in the Live Oaks Friends Meeting house, home to the Skyspace, an installation by Quaker artist James Turrell. The roof is closed but it's still able to provide you with a feeling of exploration and curiosity. Appropriate, I would say, for why we've all gathered together.
CreativeMornings is a breakfast lecture series for the creative community. It's held once a month in cities all over the world and this is Houston's 16th lecture. Like me, everyone is here to learn. Learn about other people. Learn how to be better creatives, smarter entrepreneurs, wiser leaders or more powerful evangelists. We've sought out to discover what more we can do with our lives to make a bigger impact. This month, the Houston chapter has chosen Grace Rodriguez to speak to this month's global theme, Revolution. Grace has an impressive career history in social architecture. She specializes in creating interactive events and environments for innovation. If anyone knows how to encourage and motivate a passionate crowd, it would be her.
Introductions are over and Grace is up. Revolution. She asks us to take a deep breath with her. Trap ourselves in the moment. Be receptive, I told myself. She begins by distinguishing real revolution with a big R and revolution with a little R. She explains that little R revolution is the revolution of marketing campaigns, hashtags, public relation spins and lazy journalism. It's the promises you hear in late night TV infomercials and direct marketing. I can agree with her when she says in our current culture, everything is set up to be extreme, awesome and shinier than before. The problem with this is when you call everything revolutionary, nothing is revolutionary. Although little R revolution may offer tactical change, it's main goal is only to get your attention.
Real revolution, or big R revolution, is sincere work toward radical change. It doesn't seek profit, nor is it advertised. Real revolutionists impact through work and not appearance. Grace's big idea that categorizes radical change is that in order to be the change, you must first change the being. Ok, I thought, this starts with me. In a literal sense, this can mean riots or rebellion that often move the wheels of revolution. There is a difference though, she explains, between an explosive response and an actionable protest. Revolution is action as transformation. Meaning, walk the talk and serve as an example. From a psychological sense, it's understanding the perspectives of others. Big R revolution is opening up, being vulnerable, taking risks and checking your biases. It's being the change and not chasing it.
At this point, I can't help but think how perfect the timing is for this kind of theme. Today is full of revolution. Someone in the audience raised their hand to exclaim that at this very moment, the U.S. Supreme Court ruled that marriages between couples of the same sex are constitutional. Something worked I thought. This is a result of big R revolution. She continued on with a few life experiences of her own and left us with advice to efficiently promote change. Think about the change you want to be, she says. Ask why five times. What makes the situation so revolutionary or revolting in the first place? The results should be more than taglines or stunts. It all has to have meat, teeth and something meaningful that captivates you.
I quickly threw myself into this idea of revolution and saw myself with a client. More often than not, they are looking for little R revolution. They are behind, determined to catch up and in need of a good polish. This is when, together, we should pause, take a deep breath and realize it starts with opening a space for communication to determine what the change looks like. What the change feels like. It's my job to help them be the change they are looking for. Not simply look different but feel different. If we can ask the right and important questions, meet at the same place and time, we can make an impact that is bigger, bolder and achieve what we set out to accomplish. The important tool here is thoughtful communication. We can connect and inspire people with a focused plan that includes determining who our audience is and considering all angles. It's only when we've reached deep inside ourselves and completed the necessary actions in order for the message to become crystal clear that we're then prepared to revolt.